The most famous transparent dental orthodontic appliance, Invisalign, has managed to combine several hitherto incompatible or even non – existent features of orthodontic therapy: simplicity, efficiency and – invisibility.
What will you learn in this article?
In this article, read about the following topics:
What is Invisalign and how does it work?
Invisalign is a system of transparent aligners or splints and has the same role as any other orthodontic appliance: correct the problem of incorrect bite.
However, Invisalign performs that role in a quite new way.
Application of transparent aligners in dentistry
It should be said that transparent plastic aligners in various forms were used in dentistry even before Invisalign. We see them as splints against bruxism or as mobile retainers, and they have their application as splints for whitening teeth at home.
However, only recently have they been actively applied in orthodontic therapy. We have the Invisalign brand, the first transparent orthodontic appliance in the world, to thank for the beginning of this new trend in orthodontics.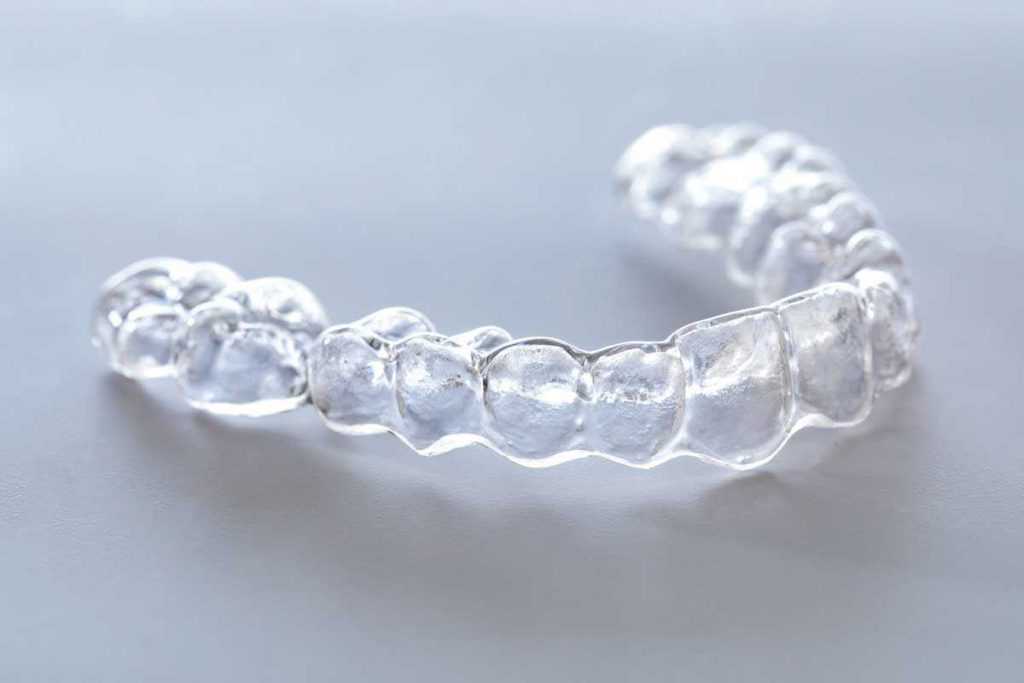 The principle by which Invisalign works
Transparent Invisalign aligners are made very precisely and individually for each patient, according to a therapy plan.
In order to exert force on the teeth, the aligners are equipped with supports, slots, hooks, etc., depending on the needs of the therapy. These are components of Invisalign aligners, and they are made of the same special transparent plastic.
Attachments of tooth-coloured composite material are placed on the teeth . The aligners are then hooked to the attachments with their slots and therefore tightly and firmly cling to the teeth.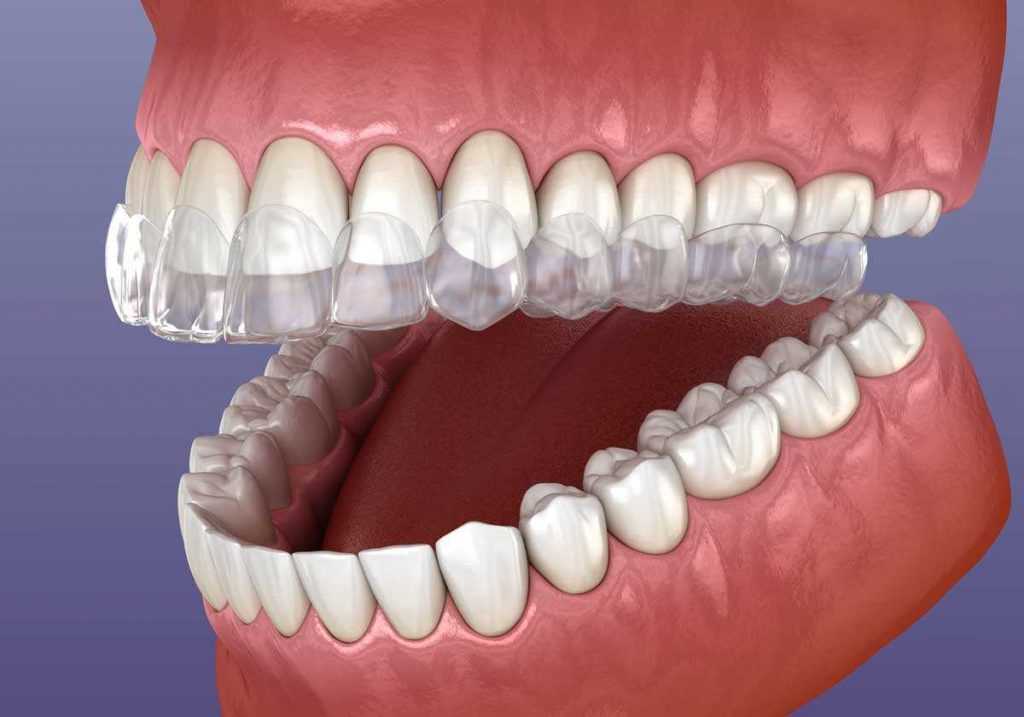 Depending on the treatment plan, the patient will receive a certain number of Invisalign aligners. A small but precisely planned displacement of the teeth relative to the previous transparent aligner is built into the dimensions and structure of each aligner.
Therefore, the teeth, by changing one aligner after another approximately every 10 days, move little by little towards the desired position.
Jeste li znali da ne postoji dobno ograničenje za nošenje Invisaligna?
Provjerite koja bi Invisalign terapija bila za Vas najprikladnija.
Have trust in us and contact us in case you need advice or have a question.
Get a professional check-up without leaving your home!
We offer you a virtual orthodontic examination and consultation. Learn more!
Invisalign therapy, step by step
After a specialist orthodontic examination, and if you opt for Invisalign, a few phases of creating Invisalign aligners are to follow.
Find out what Invisalign therapy looks like below and what steps it consists of.
Step 1: Scanning teeth
First it is necessary to make some kind of model of all teeth. According to this model, we will make transparent Invisalign aligners or splints.
A modern alternative to taking prints in impression material is to make a digital image of all teeth using an intraoral scanner.
Scanning with an intraoral scanner iTero, such as we use in Apolonija, is far more precise and more comfortable than taking dental impressions, and also allows a 3D display of your future smile soon after the scan.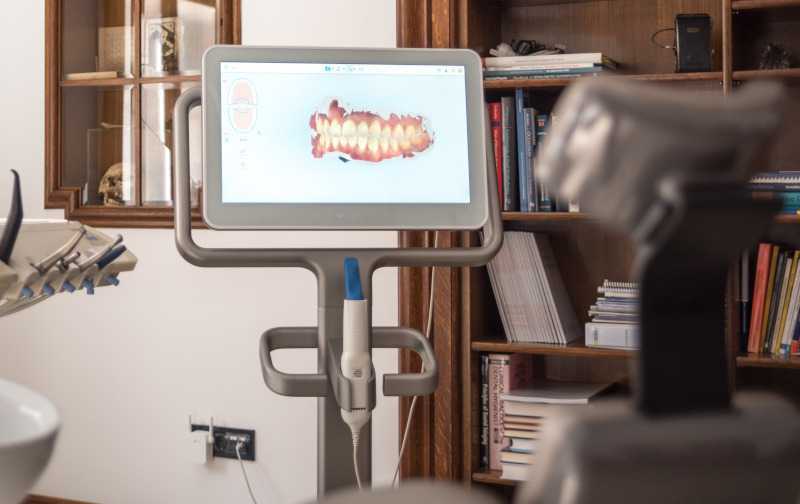 The iTero intraoral scanner produces up to 6000 images per second and is able to display in detailed 3D technique even the tiniest details. The scan itself takes about 10 minutes.
Step 2: Making an image of the bite and smile
After making the model, it is necessary to make several images of the bite: side shot left and right, front shot with smile and no smile, and shot of upper and lower jaw.
In some cases, and depending on the goal of therapy, other types of images may need to be made, e.g., panoramic radiograph, 3D CBCT image, or cephalogram. Our orthodontics specialists will advise you about that.
Step 3: Planning the therapy
Based on a specialist examination, digital scan, and possibly other images, we will make a detailed diagnosis and plan your therapy.
With Invisalign, this step is also special compared to classical orthodontics.
Once we plan the movement of each individual tooth you will be able to see a 3D view showing the displacement of your teeth on a single aligner and follow the course of therapy.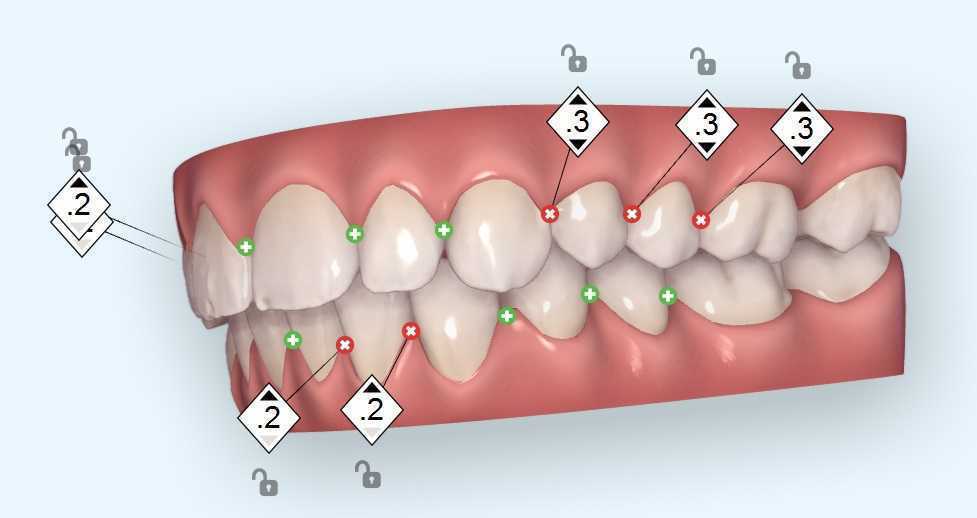 Step 4: Making Invisalign aligners
Invisalign is produced in the United States, and all therapies, along with the associated recordings, are sent first to a collection point in the Netherlands.
There, the quality of the scan and images will be determined, then your orthodontist will plan your orthodontic therapy in detail, determine the ways of displacement and the final appearance of the bite, and order the production of your transparent aligners according to the agreed plan.
Invisalign aligners are manufactured in the factory of the company Align Technology, which launched Invisalign.
The factory is very modern and completely automated. Each ordered Invisalign aligner has its own unique code which places it in a set planned just for your orthodontic therapy.
Find out more about the origins of Invisalign and Align Technology on our website "Invisalign, invisible dental braces".
The Apolonija Dental Clinic bears the title of Platinum Invisalign Provider.
Every year we plan over a hundred Invisalign therapies.
Have trust in us and contact us in case you need advice or have a question.
Get a professional check-up without leaving your home!
We offer you a virtual orthodontic examination and consultation. Learn more!
Step 5: Placing the first aligner
It takes about 2 to 3 weeks from the scan in step 1 to making the aligner set for your therapy in step 4.
Once the Invisalign aligners are made we will invite you to set the first aligners.
To place the Invisalign, as mentioned earlier, we have to put mounting points or ridges (attachments) on the teeth. The ridges are made of tooth-coloured composite material: they blend almost completely with the teeth.
Attachments or ridges are placed as follows:
1. According to the treatment plan, which is described in detail in your records, the orthodontist will use special adhesives to prepare the enamel of the teeth to receive attachments.
The process does not damage the enamel in a lasting and visible way, you don't have to worry, and it's completely painless.
2. Then we take a template for gluing attachments. We will fill its slots with composite material and use it to apply them to the teeth.

Under a lamp, the composite material, from which we normally make aesthetic fillings, will completely harden within about 30 seconds.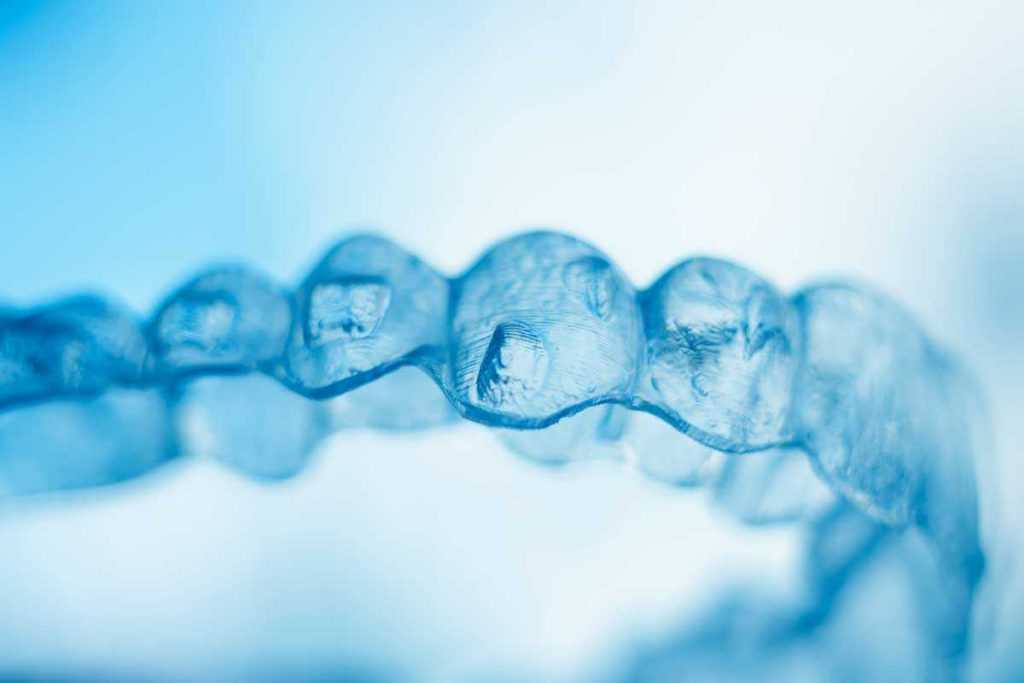 3. Then we will remove the template and smooth the ridges so as not to be too sharp to the touch with the tongue or rub against the inside of the cheek.
The ridges must be placed so as not to lose the effect of solid and narrow adhesion of the Invisalign aligner. That means you will have to get used to them, which usually takes about a day or two.
4. After placing the ridge, you shall receive the Invisalign aligner. They will start to move the teeth right away, you will feel it very gently!
It will take only a few days to get used to the force that Invisalign exerts on the teeth. You will feel the effect, but even that will disappear over time.
5. You will receive the package with other Invisalign aligners whose number depends on the treatment plan.
From then on you will change the aligners every 10-20 days, depending on how your orthodontist assesses you. You will come for check-ups as agreed and according to the orthodontist's assessment.
You will receive instructions from orthodontists on how to change aligners, how to maintain hygiene and in general about the course of therapy and check-ups.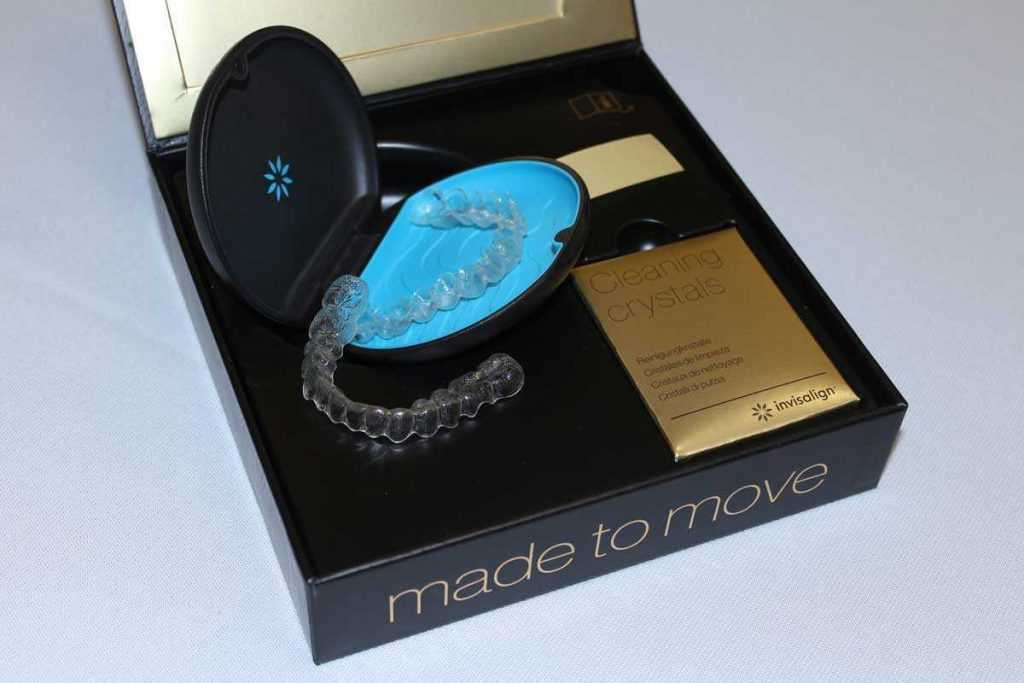 Wearing a retainer after therapy
At the end of Invisalign therapy, patients must wear a retainer. It is a usual procedure by which we insure preserving the results of orthodontic therapy.
Types of Invisalign therapy
There are several Invisalign therapies, and they differ from each other in their goals, length duration and price. At the Apolonija Dental Clinic, we divide them into two groups:
Functional Invisalign therapy
Cosmetic Invisalign treatment
Functional Invisalign therapy
This type of Invisalign therapy is able to solve even more severe orthodontic anomalies. Its goal is, first and foremost, a correction of severe bite irregularities and then the aesthetics of a smile.
Functional Invisalign therapy generally lasts as long as classical orthodontic therapy, in between 1 and 2 years. These therapies include Invisalign Full Therapy and Invisalign Teen Therapy.
Functional Invisalign therapy is always done for bigger shifts, and Invisalign aligners are fitted with the maximum number of additional features for complex tooth movement.
The number of aligners in functional Invisalign therapy is determined by the plan of our specialists, and the cost of therapy covers additional aligners during or immediately after therapy.
Cosmetic Invisalign treatment
Some patients do not need complex orthodontic therapy. The goal, in that case, is to fix the aesthetics of the smile with minor correction of tooth position.
The cosmetic Invisalign treatment will serve us for that which includes Invisalign Lite and Invisalign i7 therapies.
These therapies do not necessarily involve both jaws, and the number of Invisalign aligners is determined by our orthodontics specialists.
The duration of Invisalign cosmetic treatment is from 3 to 6 months, and with it we are able to solve, for example, spaces between the front teeth, their small curvature and similar.
Other Invisalign therapies
Sometimes we will need Invisalign therapy for completely differently goals, for example as part of pre-implant therapy.
Functional Invisalign therapies are also a part of this. They are extremely practical and fast if we need to provide space for a future dental implant with one or more crowns.
Is Invisalign always a good solution?
Invisalign is often an excellent solution for both a beautiful smile and an irregular bite. However, it also has his own limitations.
Invisalign is not a substitute for every orthodontic therapy and is not appropriate for every orthodontic anomaly. There are scientific studies that clearly determine for what aligners, and for what classic orthodontic appliances are better.
It is therefore necessary that the assessment of the appropriateness and type of therapy be made by a professional, an orthodontic specialist who will clearly tell you the advantages and disadvantages for your individual case.
Invisalign is an excellent solution for both a beautiful smile and an irregular bite.
Check which Invisalign therapy would be most suitable for you.
Contact us if you need advice or have questions.
Get a professional check-up without leaving your home!
We offer you a virtual orthodontic examination and consultation. Learn more!
Who is Invisalign intended for?
There is no upper age limit for orthodontic therapies, and thus not for Invisalign therapies. Invisalign can be worn by teenagers, young people and adults.
In fact, Invisalign is designed so that any age group can wear both functional Invisalign therapy and cosmetic Invisalign treatment.
Teenagers and young people
All people, especially the younger people, find how they look and what impression they leave among peers important.
While the conspicuous appearance of a classic fixed or mobile orthodontic appliance dissuades teenagers and young people from orthodontic therapy, with Invisalign this concern is nonexistent. It is practically invisible, even from a close range.
Invisalign for adults
Adults usually think the time for them to wear orthodontic braces has passed.
From the standpoint of dental orthodontic science, it is the wrong attitude. It is never too late for orthodontic therapy and a beautiful smile.
Adults also care about their appearance, especially in business circles: they imagine themselves holding meetings, presentations, conversations with clients and customers and they cannot accept wearing orthodontic appliances on their teeth.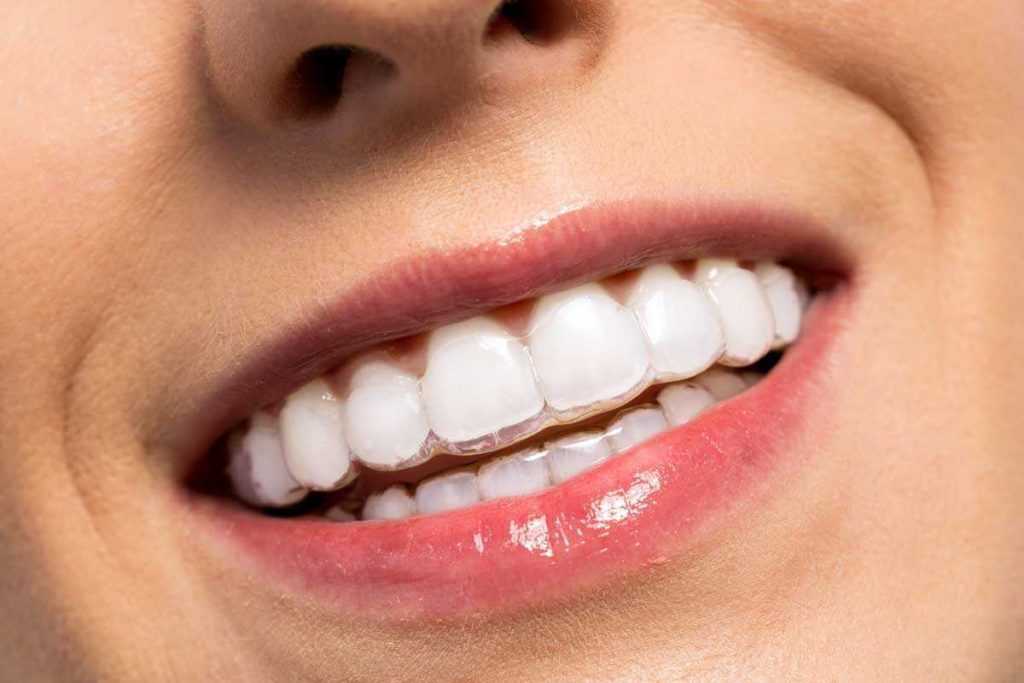 Invisalign is the ideal solution for this kind of care. Almost none of your colleagues will notice that you wear an orthodontic appliance.
Athletes
A special group within these age divisions are active athletes. Namely, the current orthodontic solutions can interfere with sports where there is a danger of impacts.
These are not only martial arts, but also those where there is close contact between rival players or there is a danger of being hit by a sports prop, such as a ball.
A classic orthodontic appliance can create injuries if there is impact to the cheek and lips. The appliance itself can be damaged and regress the orthodontic therapy a few steps back.
That danger does not exist with Invisalign. Because Invisalign is a mobile orthodontic appliance, it can be taken out during sports .
Have you found out what you wanted to know?
In this article you have learnt a lot of details about Invisalign. You may also be interested in other topics, such as:
Our orthodontics specialists will be happy to answer all your questions.
With thousands of successful orthodontic therapies and the most modern diagnostics, we believe that we can find a solution for your orthodontic problem.
Have trust in us and contact us in case you need advice or have a question.
Get a professional check-up without leaving your home!
We offer you a virtual orthodontic examination and consultation. Learn more!