One of the most common ways to beautify a smile is to use metal-free dental ceramics. This is because metal-free, all-ceramic dental crowns are made of materials that most accurately imitate the natural beauty of teeth.
What will you learn in this article?
In this article, read about the following topics:
What types of metal-free ceramic crowns are there?
In case of tooth loss or damage, you will face the question: how to replace a tooth?
However, it is not just a question of compensating in terms of quantity but far more in terms of quality and beauty of teeth.
The irreplaceability of a natural tooth
Although we rarely think about it, a natural tooth combines exceptional properties. Not only is it made of enamel on the outside, the strongest known biological material in the world, but also has special optical properties.
A natural tooth is translucent, which means that it permits light to pass through, but at the same time absorbs and emits it, which we call fluorescence. It also refracts light into a spectrum of colors similar to an opal, which we call opalescence.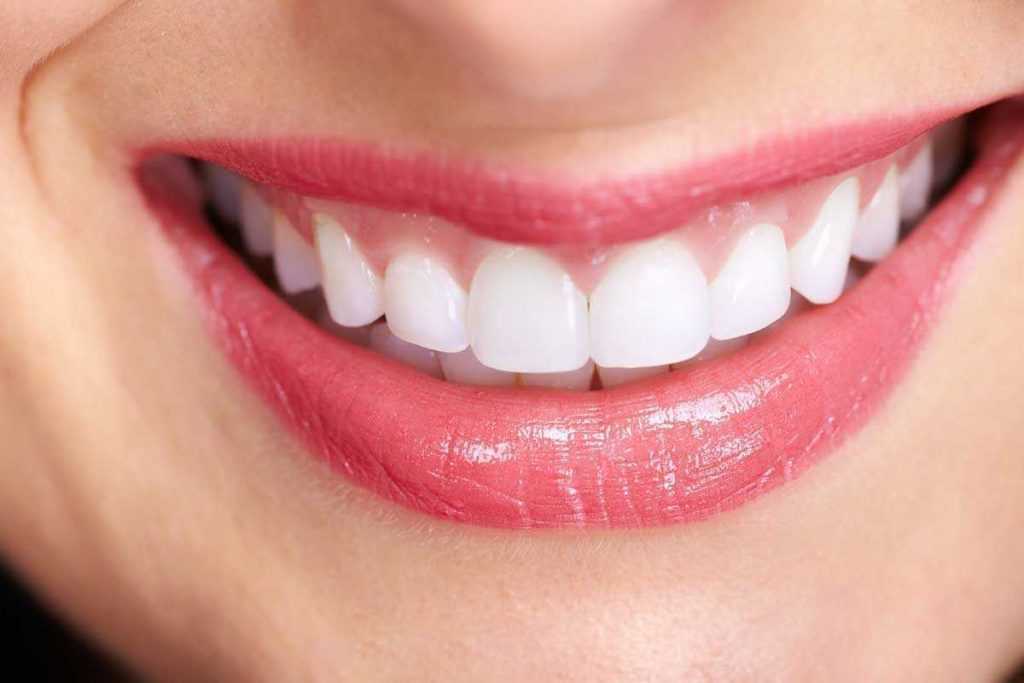 In addition to its unique beauty, each tooth is of utmost importance to the stability of the entire masticatory system and jaw. Moreover, dental health has been proven important for the overall health.
Because of all this, the replacement of a natural tooth is not only a great functional problem, but also an aesthetic challenge.
See more about specific solutions for the replacement of lost teeth in sections "Dental implants" and "Ceramic crowns, bridges and dentures".
Aesthetic disadvantages of metal-ceramic crowns
Dental crowns are divided according to the material they are made of into metal-ceramic crowns and metal-free crowns. When it comes to aesthetic properties, metal-free crowns are a far better solution.
Metal-ceramic dental crowns are made by baking the ceramic crown on the outside of a metal core under high temperature.
The ceramic material we use here is called feldspathic porcelain or dental ceramic. It possesses properties of porcelain and glass and is very resistant to mechanical, physical and chemical wear.
Due to its manufacturing method, a metal-ceramic crown has one major disadvantage: the base of the crown does not transmit light.
Therefore, metal-ceramic dental crowns look somewhat less natural.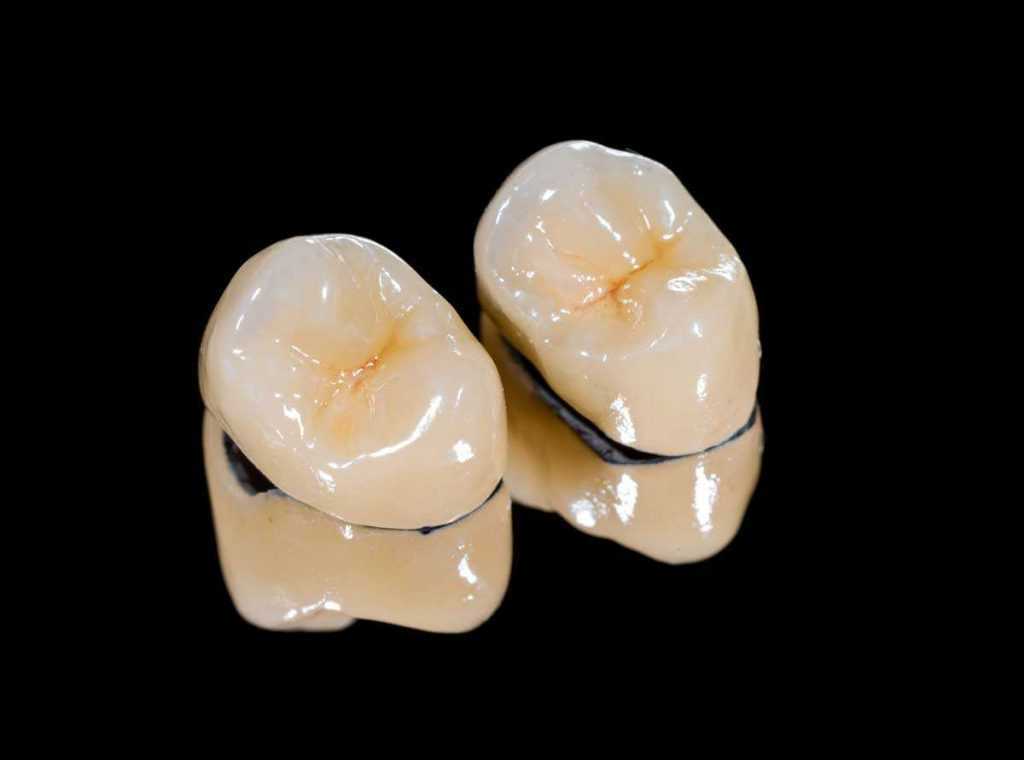 What are the aesthetic advantages of zirconia metal-free crowns?
Metal-free ceramic crowns include glass-ceramic Emax and Empress crowns, then zirconia and zirconia-ceramic crowns.
Metal-free ceramic crowns restore the natural beauty of a smile.
They are also durable and lasting.
Have trust in us and contact us for advice on choosing the most beautiful crown for your smile.
Get a professional checkup without leaving your home!
We offer you a virtual dental examination. Learn more!
Emax and Empress dental crowns
Emax and Empress glass-ceramic crowns are thought to most accurately convey the beauty of a natural tooth.
They are made of a ceramic material which is a combination of lithium disilicate and zirconium oxide. We call it glass-ceramic, and it has been used for over fifty years in dental prosthetics.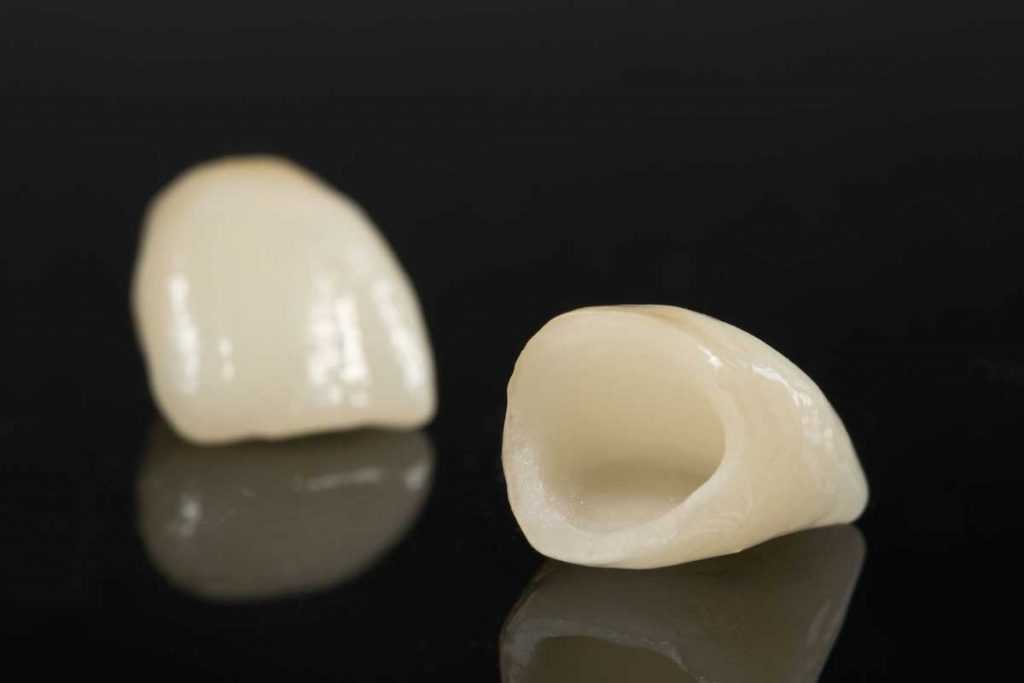 Due to its unquestionable beauty, it is most often recommended for replacing front teeth, popularly called "the smile zone".
Zirconia and zirconia-ceramic crowns
Zirconia ceramic is another ceramic material that has been used in dentistry for decades. It has proven itself not only for its exceptional physical and mechanical properties, but also great beauty.
Zirconia ceramic is used to make all zirconia crowns and crowns that are a combination of zirconia and ceramic, zirconia-ceramic crowns.
Zirconia crowns are recommended for the teeth at the back of the mouth, and zirconia-ceramic crowns for the smile zone, since they have a very pronounced shine and transmit light.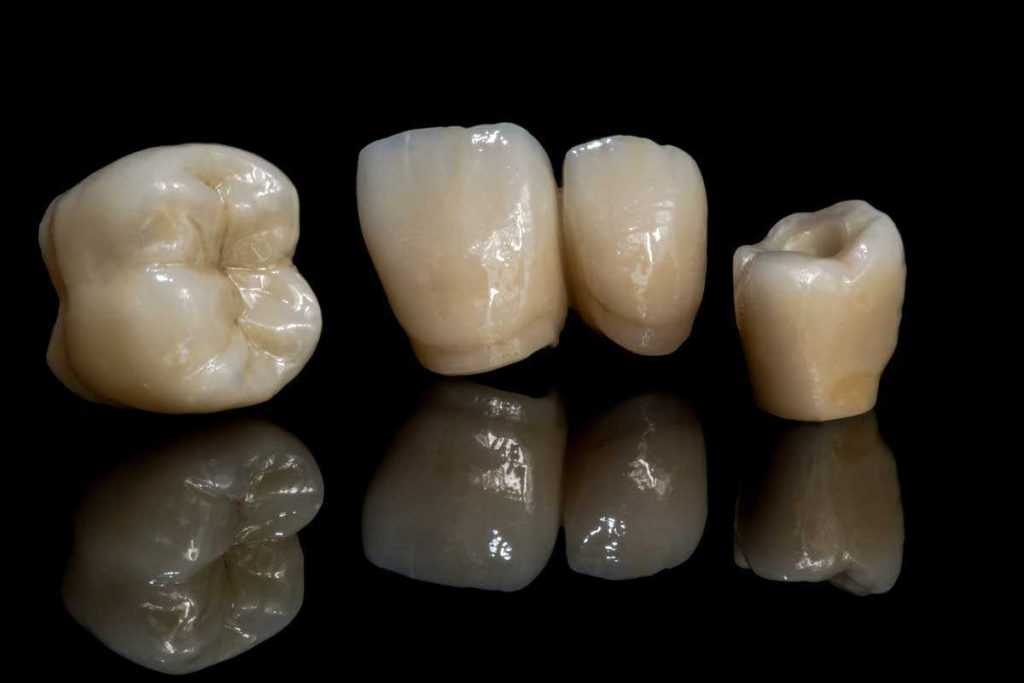 At the Apolonija Dental Clinic, we use the third, state-of-the-art generation of zirconia dental ceramic. It allows us to imitate with great accuracy the color of the patient's existing teeth and at the same time guarantee the stability of the shade.
Earlier generations of zirconia-ceramic crowns were known to lose their shade due to wear. The latest generation of zirconia dealt with that problem.
Did you find out what you wanted to know?
In this article you have learned more about aesthetic differences between dental crowns. You may want to learn more about the following topics:
Dental crown: a solution to replace one tooth
Dental bridge: a solution to replace several teeth
All-on-4, a dental bridge on implants
Our clinic combines half a century of tradition and quality with the highest aesthetic and health standards in dentistry.
Entrust the task of beautifying your smile to us.
Have trust in us and contact us in case you need advice or have a question.
Get a professional checkup without leaving your home!
We offer you a virtual dental examination. Learn more!