One of the easiest ways to make your smile more beautiful is professional teeth cleaning consisting of removal of dental calculus, sandblasting and polishing. Thanks to thorough cleaning, teeth can become up to two shades whiter.
What will you learn in this article?
In this article, read about the following topics:
What is dental calculus and why should it be cleaned?
Dental calculus is very often visible on the teeth. Although it is a common problem, it is by no means a desirable condition.
What does dental calculus consist of?
A colorless film made of saliva and all what it contains is constantly formed on teeth: dirt, minerals, food and bacteria. We call this colorless, easily removable film dental plaque.
Regular cleaning with a toothbrush and dental floss will easily remove the plaque.
If we also make sure to use mouthwash in addition to brushing teeth regularly 1-2 times a day, we can expect healthy teeth and gums.
If we do not brush our teeth regularly and floss, the plaque will form on the surface of teeth that do not self-clean.
This deposit of plaque will undergo mineralization, i.e. hardening into a solid deposit. This solid deposit is dental calculus.
So, dental calculus is nothing more than a solid deposit of dirt and microscopic food debris.

Danger of dental calculus to health
Due to its composition, dental calculus is an environment that contributes to the development of bacteria which cause caries.
Dental calculus constantly irritates the gums, which ultimately leads to its inflammation.
Dental calculus also contributes to the development of gum disease such as gingivitis and periodontitis.
While gingivitis is a mild form of gum disease, periodontitis is a chronic a disease which, although it can be stopped, nowadays leads to severe tooth loss in many patients.
Can you remove dental calculus yourselves?
Although many people grow used to calculus deposits, there is no doubt that this is a harmful condition that should be eliminated.
Dental calculus cannot be removed by pressing your toothbrush harder, dental floss or toothpick. Once hardened, dental calculus can only be removed using dental equipment.
To remove dental calculus, dentists use ultrasonic cleaners equipped with a water jet.
Adequate equipment is not the only reason why the removal of dental calculus should be entrusted to a dentist.
After the removal of dental calculus, teeth often need to be sandblasted and polished.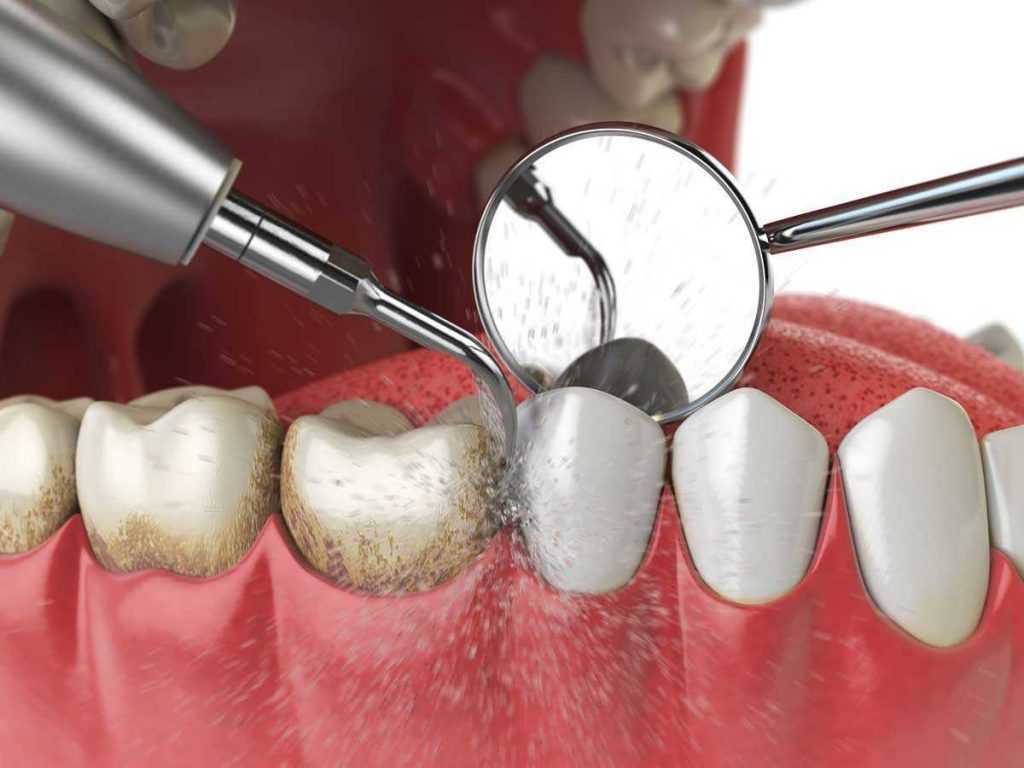 Test: do you need removal of dental calculus
Not sure if you need removal of dental calculus? This self-examination will help:
Observe to see if the natural spaces between the teeth are lost?
Do you notice white-yellowish deposits at the bottom of and along the teeth?
Move your tongue along the back of your teeth: do you feel roughness, or feel a "wall" instead of individual teeth, especially near the gums?
If you answered "yes" to one of these questions, it is almost certain that you have a significant deposit of dental calculus.
Professional cleaning in just a few minutes can make your smile up to 2 shades whiter!
It will also contribute to the health of your teeth and gums.
If you have any additional questions, feel free to contact us, or schedule an appointment for professional cleaning.
Get a professional checkup without leaving your home!
We offer you a virtual dental examination. Learn more!
Sandblasting
After the removal of dental calculus, we recommend sandblasting. This is also a regular part of professional teeth cleaning.
Although it is called "sandblasting", we do not use actual sand for this treatment.
It is a procedure in which we use a high-pressure jet to disperse small particles of calcium carbonate mixed with water on the surface of the tooth and remove even the tiniest deposits.
The powder we use has a variety of flavors, from menthol to fruit flavors. Choose the one you like and enjoy this treatment even more!
It is a kind of peeling for teeth. Sandblasting makes teeth very smooth: the smoothness of the surface makes it difficult for dental calculus to accumulate.
In addition, sandblasting will clean not only the remains of dental calculus, but also dark deposits caused by drinking coffee, wine, smoking…
Polishing
The final part of professional teeth cleaning is polishing. With the help of an abrasive paste, we will additionally smooth out rough spots and make the teeth very smooth and shiny.
We apply the paste on the teeth with a rotating brush. The action of the brush is not too intense and uncomfortable for the patient, and it will contribute to the additional removal of rough spots on the enamel.
We are one of the few clinics that has employees and professional dental hygienists with university education for conducting professional dental cleaning treatments.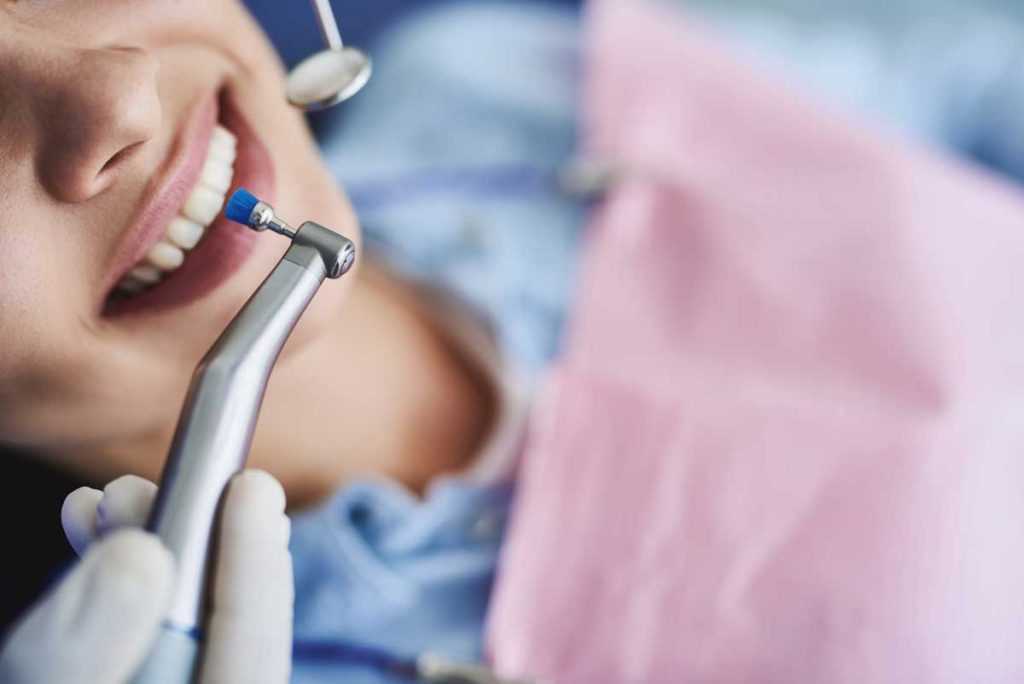 Did you find out what you wanted to know?
In this article you have learned more about professional teeth cleaning. You may want to learn more about the following topics:
Our clinic combines half a century of tradition and quality with the highest aesthetic and health standards in dentistry.
Entrust the task of beautifying your smile to us.
Have trust in us and contact us in case you need advice or have a question.
Get a professional checkup without leaving your home!
We offer you a virtual dental examination. Learn more!