The Apolonija Dental Clinic is among the most technologically advanced dental institutions in Croatia. It was the first in Croatia to introduce Navident, a computer-guided implantology system, into its practice.
Here you can find all the most important information about computer-guided implantology with Navident:
Advanced technologies at the Apolonija Dental Clinic
What does Navident allow us to do?
What does Navident mean to you?
Advantages of Navident
Advanced technologies at the Apolonija Dental Clinic
Since our foundation, we have continually followed the world's leading trends and introduced them into our daily practice.
Although technological development and innovation are often thought to be necessary only for the most complicated cases, cutting-edge technology can be used on a daily basis. Implantology has become one of the areas advancing by leaps and bounds.
What does Navident allow us to do?
The entire implantation procedure is a lot safer for placement of dental implants and less grueling for the patient. From the simplest to the most complex cases, Navident provides better visibility and accessibility to the implantation site.
Navident helps avoid possible difficulties in performing surgeries. It is a minimally invasive method of implant (that is, new tooth) placement and ensures:
Greater safety of the implant procedure
Durability of implants
Faster healing
Gentler treatment of tissue
Faster installation of implants
Shorter period of recovery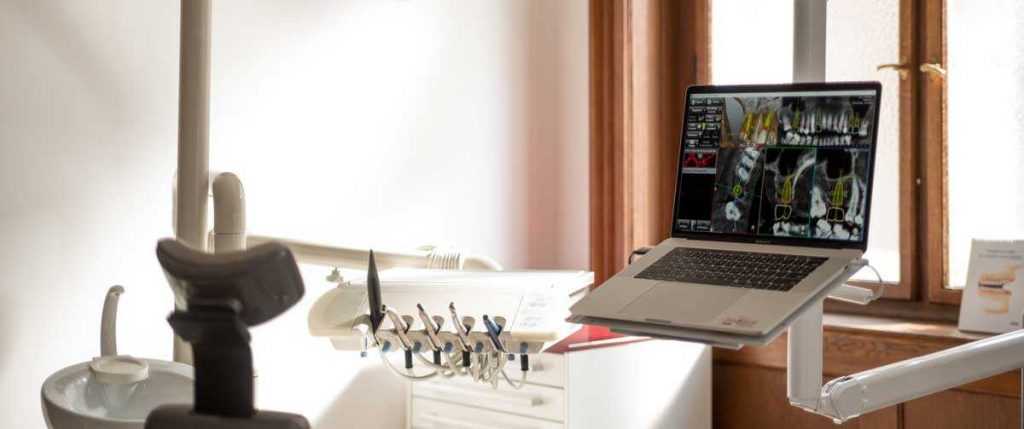 Navident combines a 3D camera and 3D image with advanced software and provides us with guidelines for accurate preparation of the implant site, even with limited visibility caused by adjacent teeth or other dental arch disorders.
What does Navident mean to you?
Using dynamic navigation, we achieve a greater precision than conventional implant preparation procedures, which means the following for the patient:
Safety of the procedure
What was once impossible or very risky is now becoming much safer. This technology allows the dentist to know with certainty at all times where to place the implant. We can say that it almost gives them "X-ray vision".
Durability of implants
A more precise placement of dental implants is one of the key factors for long-term implant success and proper position of the prosthesis.
Faster healing
With 3D navigation and the precision in the placement of dental implants, they are implanted without "opening and cutting" and thus the recovery and healing of the wound from the implant is significantly shorter.
Less radiation
No additional radiation or special preparation is required to use this system. A standard 3D CBCT image of the area where implant placement is planned is enough.
Faster implant placement even for the most complex conditions
When planning the placement of implants with this system, a prosthesis can be planned more easily and precisely, which can significantly improve the quality of the final crown or bridge.
This is especially true when planning All-on-4 and All-on-6 procedures where the amount of bone is limited and it is very important to accurately plan and install implants.
Shorter recovery
Possible negative experiences of patients, postoperative pain and recovery time after the procedure are minimized.
Advantages of Navident
Finally, we can summarize the following:
Navident greatly facilitates the implantation of a new tooth and the precision of its placement.
It is a minimally invasive method of dental implant placement and therefore allows for a faster recovery.
Implantation using a Navident system guarantees better implant placement.
Navident uses two cameras so there is no need to be exposed to additional radiation.
Navident helps to implant a tooth in hard-to-reach places.
The Apolonija Dental Clinic combines a 50-year tradition with state-of-the-art treatment protocols and state-of-the-art technology.
We approach each patient individually.
Contact us.